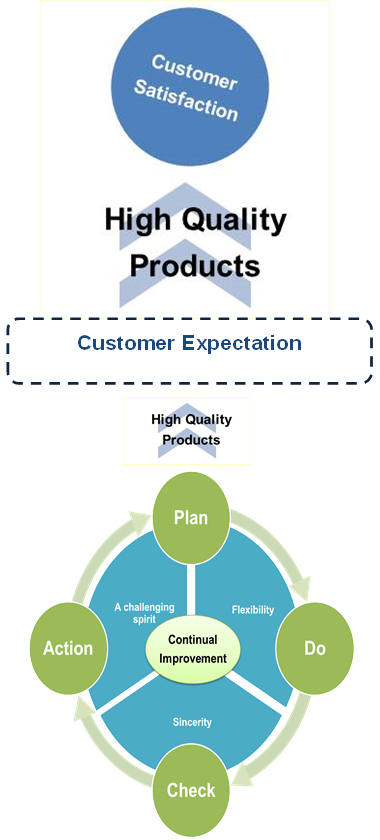 It is another day for

JSGT

to step steadily forward. We called this the Walk Towards ISO 9001:2008. Metaphorically, the current state of

JSGT

is in their adolescence where they are making their own way in search of their originality to shine.

JSGT

has the nature of an entrepreneurial entity with quality full to the brim and being the outstanding cerebral talent among other players in the game given how high and trustworthy quality we have been providing.
Our quality concepts here are applied and originated from the existing one with high reputation and creditability,

JFE

Steel Group. Therefore,

JSGT

had applied that as our quality framework and add up

JSGT's

original quality-enhancements then we have

JSGT's

Quality Policy of our own;
"We provide high quality product based on superior technology
to meet maximization of customer satisfaction and expectation
with continual improvement"
The Quality Policy is developed from 3 elements what deemed crucial for quality of

JSGT

, which are;
Continual Improvement

Customer Satisfaction and Expectation

High Quality
With "Challenging Spirit",

JSGT

will develop in a continual basis as to build trust in quality and to offer them through quality in products. Together with "Flexibility" and "Sincerity", no matter how maximizing the expectation becomes, we will put efforts on meeting that anticipation until highest customer satisfaction in our quality is achieved. And our "Challenging Spirit" will thrust ourselves to

improvecontinually

so it grows into the Sustainable Improvement Cycle, which further carries on and on.
This roadmap of quality

JSGT

have been walking on, we are so glad to welcome all of our valued customers and all of our stakeholders to be parts of this sustainable cycle of quality. Whilst the cycle continues, the supply chain of Thai automobile manufacturer industry will be enhanced in large, yet staying stronger day after day.